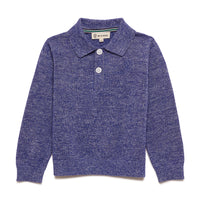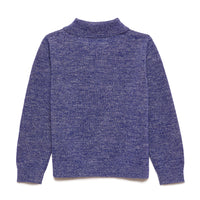 This beautiful classic polo sweater in our exclusive merino/ linen yarn is just oh so cute for your little girls and boys. A classic example of our premium girls and boys knitwear.
The Iris Polo Sweater includes our signature Iris logo icon subtly embroidered on the chest. White buttons with a smart collar make this a dapper garment that can stand the test of time and be handed down the generations. It's enough to dress straight onto the skin or can be worn as a jumper on those chilly spring/ summer evenings.
With a 55% merino wool, 45% linen blend, comes exceptional comfort and breathability, helping kids to regulate their temperature and avoid getting too hot or cold.
If you're looking for girls knitwear or boys knitwear that will last for years to come, then the Iris Polo Sweater from Iris & Wool is the perfect choice. We believe that children, like adults, deserve well-crafted clothing, which is why our Iris Polo Sweater, and the rest of our children's collection, is manufactured with the same high-quality materials and with the same attention to detail.
Contact our experienced team today if you have any questions and we will be happy to help you.
55% merino wool. 45% linen
Cold hand wash on delicate cycle.
CERTIFIED 100% MERINO WOOL
Iris and Wool only uses 100% certified Australian Merino Wool in it's collections. Find comfort in knowing you are supporting our aussie farmers when you purchase a forever piece from us!
WITH EVERY PURCHASE YOU ARE MAKING A DIFFERENCE
Every sale Founder Emily Riggs donates $1 from each sale to the McGrath Foundation in honour of her mum Jane McLeod who passed away from Breast Cancer at 43.